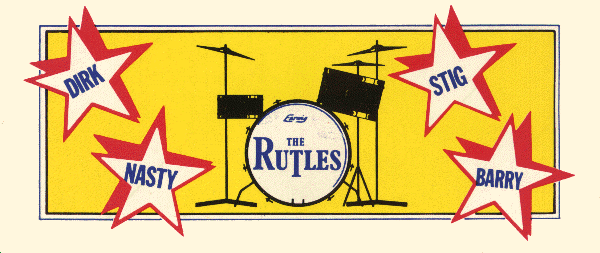 RUTLES WB SET ON THE WAY
STAY TUNED FOR NBC TV SPECIAL
Much to the surprise of just about no one, Warner Bros. Records has announced that it intends to release an album by and titled The Rutles the last week in February (weather permitting).
The album is the debut and farewell recording of the Rutleside beat combo who forever changed music, culture and the rate of exchange. The album is a retrospective of the group's most important songs including such classics as "Hold My Hand," "Cheese and Onions," "Doubleback Alley" and "OUCH!" The album will be available free of charge to all those purchasing the sixteen page full color booklet which graphically chronicles the Rutle years; the booklet will be packed in the album jacket and will be available through record stores everywhere.
In a very related move, NBC will air "All You Need Is Cash," the Rutles somewhat true life story, the evening of March 22. The queasy-docudrama was created by Eric Idle, one of the Monty Python group, who himself plays several roles in the film including that of Rutle bassist Dirk McQuickly. The other three of the Pre-fab Four are Ron Nasty (Neil Innes), Stig O'Hara (Rikki Fataar) and Barry Wom (John Halsey). All the songs on the Warner Bros. Rutle collection were written and produced by Neil Innes whose past includes long episodes with both Monty Python and The Bonzo Dog Band.
"All You Need Is Cash" was directed by Gary Weis and Eric Idle; executive producer is Lorne Michaels. Players in the film include members of the Not Quite Ready For Prime Time Players from NBC's Saturday Night as well as Bianca Jagger, Penelope Tree, Ron Wood, George Harrison, Mick Jagger and Paul Simon.
01878
Warner Bros. Records Inc., 3300 Warner Blvd., Burbank, Ca. 91510
3 E. 54th St., New York, N.Y. 10022
Return to Warner Bros. Press Kit Page