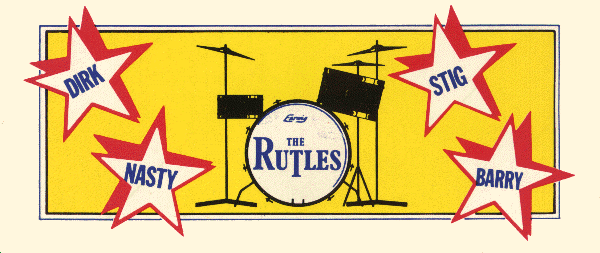 ALL YOU NEED IS CASH: NBC, MARCH 22, 9:30 P.M.
Directed by Gary Weis and Eric Idle
Executive Producer, Lorne Michaels
Conceived and Written by Eric Idle
Music and Lyrics by Neil Innes
Produced by Gary Weis and Craig Kellem
Edited by Aviva Slesin
Photographed by Gary Weis

THE RUTLES:
Eric Idle
Neil Innes
John Halsey
Ricky Fataar

THE FEATURED PLAYERS:
Dan Aykroyd
Terence Bayler
John Belushi
Jeanette Charles
George Harrison
Bianca Jagger
Mick Jagger
Bill Murray
Michael Palin
Gilda Radner
Paul Simon
Gwen Taylor
Ron Wood
Henry Woolf

THE RUTLES STORY
29th March 1943. Eric Idle born (apparently). Harton Hospital, South Shields, England. No recorded comedy. Mother born in same hospital. Not at the same time however.
Father on active service; actively servicing India, Nassau and other far reaches of the still-setting Empire. RAF. Flight Sergeant. Rear Gunner. Escapes the Nazi menace, only to get fatally injured on leave on British road accident hitch-hiking home to see small son (then me). Dies Christmas Eve 1945. Earliest childhood memories: weeping mother at Christmas time. Happy Christmas everyone.
Boy lives in Oldham. Mother moves to Wallasey. Boy moves with her. Wallasey opposite Liverpool, a ferry ride across the Mersey. Boy attends school at St. George's Wallasey. 6th birthday - a ferry ride with friends to Liverpool, a ride on the overhead railway (now demolished) back to Wallasey for tea at the ABC Tea Rooms, where boy throws up on too many meringues. This is the last meringue he will ever eat.
Age 7. Boy sent to boarding school in Wolverhampton. Non-exotic center of "black country." Soot, factory, grim walks in crocodile. Boy remains at this boarding school until Age 19. Little to do except read, play table tennis and watch The Wolves. (Soccer) Bullying at the big school (Age 11) is institutionalized. Dormitories, long Victorian dormitories, sleeping 100 boys at a time.
Girls start to make an impression on the (short) boy. Night raids on girls dorms start a lifelong interest in girls bodies. (Age 34 - lifelong interest waning).
Boy gets 10 O levels, 3 A Levels, 1 S Level. People tell boy boy smart. Boy not believe people but go to Cambridge where boy learns that life can be fun.
1962 - 65. Boy becomes young man at Cambridge where life is fun all the time Pembroke College. Men call boy sir. Star performing and writing comedy skits. Voted in to Footlights Club, March 1963. Venerable ancient Cambridge Comedy club that has seen more comdeians than hot lunches. (The food is worse than the comedy). Boy meets John Cleese, then still extremely tall. Footlights Club has a bar that stays open all night. Boy stays open all night in bar. Sketches, cabaret, fun.
September 1963. While Beatlemania sweeps England, Idle sweeps stage at Edinburgh festival. Performing twice nightly. Cambridge Footlights Review. Smash in festival. Meets Michael Palin, Terry Jones who are in the rival Oxford Review.
1965 Undergraduate graduates in undergraduate review "My Girl Herbert," which tours the most unlikely spots before limping in to the Lyric Theatre Hammersmith where it dies after three weeks (only three years before the Theatre - now a car park) also dies. Idle now President of Footlights. First Presidential action - allows women in to previously All-Male Club (first time in 80 years). Camp dons have heart attack. Amongst first three women to join - Germaine Greer - in knitted twin set, fresh from Melbourne University. Germaine becomes pal. With her nun's striptease she shocks the right people. Germaine also tours with "My Girl Herbert." This doesn't save it from oblivion. Fortunately. Idle graduates by proxy - performing a Matinee at Oxford on the day of the ceremony. Never gets to kiss Vice-Chancellor's fingers. Vice-Chancellor's reaction not recorded.
1965. Cabaret with John Cameron at the Blue Angel. One night of triumph and fourteen of attempting to make the riff-raff of the armed forces laugh. Armed forces win. Idle returns to Leicester for Richard Eyre production of "Oh What A lovely War." Cast cries more than the audience. Retained for Christmas Season in dreadful farce "Once For the Pot." Is so busy writing back stage that misses several entrances.
1966. Back stage writings appear on Radio: "I'm Sorry I'll Read That Again" with John Cleese and several Cambridge lads. Realizes that Obridge means never having to say you're unemployed.
1966: Frost recruits young Idle to write witty ad libs in "Frost Report." Idle agrees happily. Scripts go by taxi - writers by Tube. Moves from 3 guineas a minute to 10 guineas a minute.
1966: Revolver released. Keen interest in fab four. First plays pop music for Tony Palmer. Palmer very impressed with The Who - "I can see for Miles -" decides to become the Ken Russell of Pop. Happy days in BBC rehearsal rooms with twenty writers.
Professional writing career blooming. Writes TV series for Ronnie Corbett. More Frost work. Constantly. Boffoes. Quiperoos. CDM (continuous developing monologue - Frostspeak for his gags.) (Cleese calls it OJARIL - old jokes and ridiculously irrelevant links.)
1967 - 69. DO NOT ADJUST YOUR SET. Zany wacky kids show on Rediffusion with Michael Palin, Terry Jones and Neil Innes and the Bonzo Dog Doo Dah Band. Rediffusion goes out of business. Bonzos drop Doo Dah and four of their members. Thames continue show. Terry Gilliam comes along, makes animations. Top viewing figures at 5:20 in the afternoon.
1969: Idle scives off first week of Python filming to get married. (To Australian actress Lyn Ashley) Honeymoon in South of France. Also present on honeymoon - Marty Feldman and wife. Honeymoon lot of laughs. Python - first called A Horse A Spoon and A Basin - Owl Stretching Time - Bunn, Whackett, Buzzard, Stubble and Boot - before BBC finally accepts - Monty Python's Flying Circus - makes three series of thirteen until 1973. Pythonmania sweeps Surbiton. Weeks of standing on the Yorkshire moors dressed as a woman inures young man to the ridiculous.
1973. Son Carey born on film. A scar is born.
1973, Python tours Canada, for reasons never entirely made plain. Python previously tours England on "First Farewell Tour." For Cash. Richard Nixon does not mention Python in various speeches he makes but he also denies knowledge of Watergate.
1974; Python on stage Drury Lane England for smash limited season. Monty Python and the Holy Grail filmed in Scotland in wet wool armour for five weeks of rainy misery unpleasantness. Next Python film written for desert. . .
1974 - 5. Idle writes own TV mini-series, taped in an upstairs cupboard at BBC2 and filmed on lacation in Battersea Fun Fair. Entire series of six made for 50,000 dollars. Including fee. "Rutland Weekend Television" entertains three insomniacs in the Home Counties. Fails to entertain Ringo Starr. Neil Innes on every show. Naturally.
1975: Idle in South of France, tiny shack in empty Provencal hillside; writes Rutles joke. Speaks to Innes on phone. Innes writes Rutles song.
1975: August. Idle flies to Hollywood for less than spectacular opening of Holy Grail with Gilliam. LA profoundly uninterested in unheard-of English comics. Unheard-of English comics profoundly uninterested in LA.
In the inky blackness of the back of the auditorium during opening, Idle meets young Harrison: Liverpool lad. Fun commences. Nights of fun and madness continue: hopefully forever. Harrison sends Idle and Idle junior a juke box for Christmas. Idle and Idle junior devotees for life.
Idle wretchedly bribes the then thirty two and two thirds on to Christmas Spectacular of Rutland Weekend. Christmas a spectacular failure. Cast thoroughly enjoy themselves - for several days - audience does not. The legendary Pirate Song - the only Harrison/Idle composition; fails to ignite the Western World.
I want to be a Pirate
A Pirate's life for me
All My friends are pirates
And sail the BB - C
I've got a Jolly Roger
Its big and black and vast
So get out your skull and crossbones
And I'll run it up your mast.
What a wasted education.
May 1976 Rutles first appear on new series of "Rutland Weekend Television." October 1976 Methuen publishes "The Rutland Dirty Weekend Book," which also contains The Rutles. 250,000 copies printed. Many still left unread. Many more left unsold.
23rd October 1976: Idle hosts NBC's Saturday Night Live: at invitation of new pal Lorne Michaels, Rutles excerpt shown: with some success. Commences publicity tour of Canada, for book. Decides never to do publicity tour again. Canada still Canada. Christmas 1976. With Lorne Michaels in Barbados. Michaels says don't do Rutles story with BBC2. Make it with dollars. Idle agrees to spend NBC's money instead. Ends up spending much of Michaels money as well. Michaels still friendly.
Meets Rikki Fataar on the beach. Fataar later becomes Stig. End of Jan 1977. Idle reluctantly leaves Barbados - having only one for Christmas. Having too good a time to write. In N.Y. loft off the Bowery writes The Rutles Story Synopsis underneath the rythmic stomping of the Carol Conway Dance Company. "And two three four, One and Kick and..."
Loft inhabited by Aykroyd from Saturday Night. Aykroyd inhabited by Martians. Idle uninhibited with inhabited Aykroyd. (Having previously run down Flushing airport runway in full drag for first Idle Weiss Film: "Drag Racing" with same Aykroyd.) Aykroyd a stickler for having his name spelt correctly, but a scholar and a gentleman nevertheless. And no mean sight in full drag either.
February 1977. For some wonderfully insane reason, Lorne Michaels takes whole of Saturday Night Live to Mardi Gras in New Orleans. Primo Time, live from the streets packed with incredibly drunk millions. Idle decides not to miss it. Fails to talk Ringo Starr into joining party. New Orleans superb time. Show not quite so superb. The parade (six miles of glittering pageant with Henry Winkler) fails to arrive for even one minute of the hour and a half program. Buck Henry convinced of conspiracy. Idle avoids the nightmare of commentating live in the Apollo Ballroom with a thousand dragsters. Penny Marshall doesn't. Dinner afterwards a wonderful occasion. Television should always be like this. Host Randy Newman changes identical plaid shirts. (Must be masquerading as a Canadian).
April 23rd. Shakespeare's birthday. NBC have apparently still not fired Lorne Michaels. Idle host again. Frost v. Nixon interview. 2nd Idleweis film "Body Language." (Gary Weis to co-direct Rutles with EI.) Ratings 41 in LA. This is the kind of language NBC talks. Rutles in go condition. Mick Jagger and Paul Simon, interviewed about the Rutles and their effects on history. Innes furiously writes nineteen "new" Rutles hits.
June 1977 Idle appendix removed in Arab Hospital in St. Johns Wood. Idle celebrates exit from hospital with major fun at Harrisonhome: Cracker Box Palace. Idle returns to hospital having celebrated too soon. Ten days of drip feeds and plastic things down back of throat - Idle leaves hospital once more, fifteen pounds slimmer: Does not celebrate too furiously too soon. Survival of the fittest.
July: writes final Rutles script. Gary Weis arrives.
End July, early August: Rutles commence shooting. Neil Innes, having finished all songs, recording them in record two weeks. Rutles shoot one week London, one week Liverpool, one week London. Three weeks of fun and dressing up.
September: Idle arrives for last week of the Hamptons season. Rubs cocktail with New York society. Editing commences. Aviva Slesin locked to a hot Steinbeck machine for three months.
The Warner Brothers (Reg and Stan) flip wig over Rutles and decide to market 25 records. Derek Taylor becomes overacting Rutles Press Officer.
Basil Pao and Eric Idle put together 20 page booklet story of the Rutles one mad weekend for album. GH, the Rutles guru, pleased with events so far, introduces them to Mo (Ostin).
Further shooting (three days in New York, one day in New Orleans one day in London) and the thing is, as they say, "in the can."
Those responsible:
Gary Weis: Santa Monica Boulevardier. Has the looks of a young god and the habits of a young devil. Shoots the entire film on his shoulders. This is the third IdleWeis Film. Gary has previously made a film on the irascible Pekinpash and the irrecoverable Jimmy Hendrix. Makes the very best films for Sat. Night Live. Failed to persuade Idle to host the drag ball at the Apollo New Orleans. Has enormous influence on Idle, but Idle still has strong survival instinct. The very best cameraman and director I have ever worked with. Without whom nothing say no more.
Lorne Michaels: the Napoleon of comedy. That rarest of all TV executives-the intelligent smart bright enthusiastic encouraging writer performer producer person. Has ploughed own money into Rutles. What more can you say? I can say lots. The Godfather of The Rutles. Just the best.
Nell Innes: since 1967. A friend. Has been through many campaigns with Idle. A veteran. Best comedy singer performer I have ever seen on stage. Plays Nasty. Uncanny ability to write Rutles songs. Really a Rutle.
Eric Idle. Someone I live with. Plans to launch Rutles on unsuspecting American public and plead insanity. 1978 April-June, filming new Python film "Monty Python's Life of Brian" in the Tunisian desert. Sounds hot, wooly and uncomfortable: so far down to play 16 parts.
Think of all that false facial hair. In Rutles plays Dirk, the left-handed one. The awfull Narrator and Stanley J? Krammerhead the 111rd Junior.
The Rutles: Dirk, Nasty, Stig and Barry. The prefab four who created a musical legend that will last a lunchtime. Discovered by their manager Leggy Mountbatten in a lunchtime disco they rose to the very top of the tree, before discovering that the tops of trees is from where we all descend.
0378
Warner Bros. Records Inc., 3300 Warner Blvd., Burbank, Ca. 91510
3 E. 54th St., New York, N.Y. 10022
Next Press Release